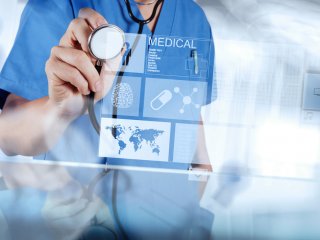 Course Type:
Instructor Led - 4 Weeks Long
Description
Objectives
Outline
Materials
System Requirements
Hospitals today face major challenges. Health insurers are demanding lower prices. Patients are demanding an improvement in their quality of care. Our Lean Six Sigma for Hospitals course applies Lean Six Sigma principles to patient flow, data management, and statistics. The result is a faster, better, and more profitable hospital. Students will learn how to locate opportunities for improvement and apply Lean Six Sigma concepts to quickly improve hospital operations, quality of care, and reduce costs.
* You have 4 weeks to complete this course from date of your enrollment.
** Course Subject to Change.
After completing this course, you should be able to:
Recall strategies for streamlining all elements of the hospital
Identify ways to reduce healthcare costs by streamlining business practices
Recognize statistical tools and error-free methods of data collection and management
List the tools for implementing Lean Six Sigma in hospitals
Lean Six Sigma for Hospitals Module 1
Steps to a Faster and Safer Hospital 
Lean Six Sigma in healthcare can help prevent medical mistakes, decrease death rates, reduce lengths of hospital stays, and create a better quality of patient care. Module one discusses what you can do to provide operational excellence in your workplace.  Also examined is the similarities and differences between your customers and stakeholders.  Module one will provide students with the ability to analyze and create an action plan within your hospital.
Accelerate the Patient's Experience
Faster Door-to-Balloon Time
Accelerated Patient Flow
Value-Stream Mapping
Steps to a Safer Hospital
Lean Six Sigma for Hospitals Module 2
Reducing Defects
The United States healthcare system waste billions of dollars annually.  In module two, we will look at ways we can reduce the cost of healthcare by streamlining business while at the same time provide more efficient services to our clients.  In this module we will examine the critical processes of improving and redesigning.
Reducing Defects with Six Sigma
Getting to Lean Six Sigma
Steps to a More Profitable Hospital
Manufacturing and Service
The Universal Improvement Method
Lean Six Sigma for Hospitals Module 3
Sustaining Improvement
Module three discusses how to create a fool-proof data collection.  Different programs exist and we will explore which will work to build the most efficient data plans for your organization.  Included in module three is how to organize your data in excel and how to use the PivotTable wizard to analyze your data.  Module three will culminate with discussion on process flowcharts and how to effectively create and implement your plan to educate your team on the reality of the process.
Mistake Proof Data Collection
Setting Up Your Data in Excel
Process Flowchart
Control Plan
Statistical Tools – Hypothesis Testing
Lean Six Sigma for Hospitals Module 4
Tools for Implementing Lean Six Sigma in Hospitals
With an experienced team, qualified to access and continue with operational excellence, your organization and its clients will succeed.  Module four will examine how to focus your improvement efforts and how to easily avoid and overcome and crises that present themselves.  Also included in module four is a discussion that can help healthcare providers achieve conflicting goals between all parties.
Change Management
Theory of Constraints
CONI
WIIFM
Making Lean Six Sigma Successful
Ed4Career is committed to being both environmentally conscious and making it easier for you to study! We're making your education mobile! All of our textbooks are now provided as eTextbooks. You can access them on your laptop, tablet, or mobile device and can study anytime, anywhere.
The move away from physical books to eTextbooks means you get the latest, most up-to-date version available. This also makes your training more accessible, so you can study anywhere you have your phone or tablet. The best part is that all materials are included in your training cost so there are NO extra fees for books!
Internet Connection
Broadband or High-Speed - DSL, Cable, and Wireless Connections
*Dial-Up internet connections will result in a diminished online experience. Classroom pages may load slowly and viewing large audio and video files may not be possible.
Hardware Requirements
Processor - 2GHz Processor or Higher
Memory - 1 GB RAM Minimum Recommended
PC Software Requirements
Operating Systems - Windows 7 or higher
Microsoft Office 2013 or higher. Also, you could use a general Word Processing application to save and open Microsoft Office formats (.doc, .docx, .xls, .xlsx, .ppt, .pptx)
Internet Browsers - Google Chrome is highly recommended


Cookies MUST be enabled
Pop-ups MUST be allowed (Pop-up Blocker disabled)

The Kindle Reader App or VitalSource Bookshelf App are needed for many of our courses (No special equipment needed. This can be downloaded for FREE onto your computer.)
PowerPoint Viewer (if you do not have PowerPoint)
QuickTime, Windows Media Player &/or Real Player
MAC Software Requirements
Operating Systems - Mac OS x 10 or higher with Windows
Mac office programs or a Word Processing application to save and open Microsoft Office formats (.doc, .docx, .xls, .xlsx, .ppt, .pptx)
Internet Browsers- Google Chrome is highly recommended


Cookies MUST be enabled
Pop-ups MUST be allowed (Pop-up Blocker disabled)

The Kindle Reader App or VitalSource Bookshelf App are needed for many of our courses (No special equipment needed. This can be downloaded for FREE onto your computer.)
PowerPoint Viewer (if you do not have PowerPoint)
Adobe PDF Reader
Apple QuickTime Media Player