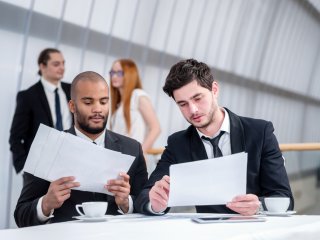 Course Type:
Instructor Led - 4 Weeks Long
Description
Objectives
Outline
Materials
System Requirements
Our Introduction to Lean Six Sigma course details the process for improving business operations using the integration of Six Sigma and Lean methodologies. This course will take you through each phase of the Six Sigma process, introducing tools and providing methods for successful process management. Lean Six Sigma emphasizes a culture of quality where businesses fully understand their internal processes, their customers' expectations, and future needs. Learn Lean Six Sigma methods for developing the best strategies for success.
* You have 4 weeks to complete this course from date of your enrollment.
** Course Subject to Change.
After completing this course, you should be able to:
Recall Lean Six Sigma methodologies
Define and measure ways businesses can utilize Lean Six Sigma practices
Identify process technology and business improvement processes
Recognize the fundamentals of control phases and risk management 
Introduction to Lean Six Sigma Module 1 Introduction
Lean Six Sigma Basics
Module one provides a comprehension introduction to Lean Six Sigma and how companies can transform from a traditional business to a process management one. We will define the different business processes, sigmas and how to implement a successful program. After completing this module you will understand why a company should utilize sigma methodologies.
Building the Case for Quality
Overcoming Operational Challenges
Defining Six Sigma, Lean, and Lean Six Sigma
Implementation Overview
The Pillars of Long-Term Success
Introduction to Lean Six Sigma Module 2 Chapters 1 - 2
Define and Measure Phases
Module two defines and measures ways businesses can utilize lean six sigma practices. We will define potential opportunities, implementation phases, and customer metrics. QTC characteristics, which help align improvement or design efforts with customer requirements, will also be discussed. Finally, the last topic in this module is an introduction to process mapping and how it enhances business productivity.
Define an Opportunity
Define Critical-to-Quality Characteristics
Define the Customer
QTC Characteristics
X-Functional Process Map
Introduction to Lean Six Sigma Module 3 Chapters 3 - 4
Analyze and Improve Phases
Module three focuses on process technology and business improvement processes. We will define performance objectives and metrics and sources of variation such as random variation, noise and non-controllable variation. We will also identify Vital X's and workflow redesign processes. 
Baseline Process Capability
Define Performance Objective
Identify Sources of Variation
Identifying Vital Xs and Implementable Solutions
Workflow Redesign
Introduction to Lean Six Sigma Module 4 Chapters 5 - 6
Control Phases
Module four covers the final steps in our introduction to lean six sigma – control phases. We will discuss forms of process control, types of scores, and how to develop a control plan. Ways to develop and improve upon risk management and mitigation designs are also discussed. Why predictive maintenance is important will be covered, as well as using SPC charts to monitor progress.
DPMO/z score
Implement Process Control
Control Plan
Risk Management
SPC Charts
Ed4Career is committed to being both environmentally conscious and making it easier for you to study! We're making your education mobile! All of our textbooks are now provided as eTextbooks. You can access them on your laptop, tablet, or mobile device and can study anytime, anywhere.
The move away from physical books to eTextbooks means you get the latest, most up-to-date version available. This also makes your training more accessible, so you can study anywhere you have your phone or tablet. The best part is that all materials are included in your training cost so there are NO extra fees for books!
Internet Connection
Broadband or High-Speed - DSL, Cable, and Wireless Connections
*Dial-Up internet connections will result in a diminished online experience. Classroom pages may load slowly and viewing large audio and video files may not be possible.
Hardware Requirements
Processor - 2GHz Processor or Higher
Memory - 1 GB RAM Minimum Recommended
PC Software Requirements
Operating Systems - Windows 7 or higher
Microsoft Office 2013 or higher. Also, you could use a general Word Processing application to save and open Microsoft Office formats (.doc, .docx, .xls, .xlsx, .ppt, .pptx)
Internet Browsers - Google Chrome is highly recommended


Cookies MUST be enabled
Pop-ups MUST be allowed (Pop-up Blocker disabled)

The Kindle Reader App or VitalSource Bookshelf App are needed for many of our courses (No special equipment needed. This can be downloaded for FREE onto your computer.)
PowerPoint Viewer (if you do not have PowerPoint)
QuickTime, Windows Media Player &/or Real Player
MAC Software Requirements
Operating Systems - Mac OS x 10 or higher with Windows
Mac office programs or a Word Processing application to save and open Microsoft Office formats (.doc, .docx, .xls, .xlsx, .ppt, .pptx)
Internet Browsers- Google Chrome is highly recommended


Cookies MUST be enabled
Pop-ups MUST be allowed (Pop-up Blocker disabled)

The Kindle Reader App or VitalSource Bookshelf App are needed for many of our courses (No special equipment needed. This can be downloaded for FREE onto your computer.)
PowerPoint Viewer (if you do not have PowerPoint)
Adobe PDF Reader
Apple QuickTime Media Player