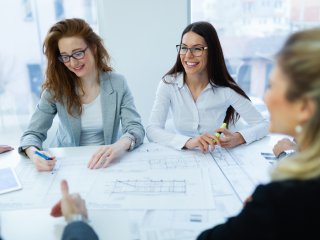 Course Type:
Instructor Led - 4 Weeks Long
Description
Objectives
Outline
Materials
System Requirements
Learn how to use your strengths, optimism, and sense of belonging, power and energy to prevail in service of a purpose in our Balanced Leadership for Women course. Listen to stories told by amazing women leaders and learn from their failures and success. Discover techniques for balancing work and life through centered leadership with tools for connecting, engaging, and energizing yourself and others. This course starts with you and helps you build your path for success.
* You have 4 weeks to complete this course from date of your enrollment.
** Course Subject to Change.
After completing this course, you should be able to:
Recall the importance of building meaning for women in leadership roles
Identify leadership qualities and traits 
Recall how to focus on building connections and networks with colleagues, mentors and sponsors
Recognize how to find your voice as a leader, use your strength to create opportunities and utilize skills to reach your career goals
Meaning
This module will address the importance of building meaning for women in leadership roles. Meaning is a defining trait among leaders. Identifying what brings meaning involves both knowing your strengths and identifying your purpose in what you are doing. Part of identifying your purpose is naming your dreams, and once your purpose is identified alongside your strengths and meaning becomes clear, happiness naturally results. The happiness equation provides a strong base for effective leadership.
It All Begins with Meaning
Your Own Happiness Equation
Start with Your Strengths
A Sense of Purpose
Dream Catcher
Balanced Leadership for Women Module 2
Framing
Once we have identified our strengths and purpose, it is time to begin to identify who we are as a leader. Are we optimistic, pessimistic, and adaptable? Obstacles are a reality in leadership, and being comfortable with feedback and critique can help to use it to build our leadership skills. This module will discuss the importance of how we frame the successes and failures and how to move forward through obstacles along the way.
A Matter of Framing
The Practice of Optimism
Moving On
Ready for Change
The Journey, Not the Destination
Balanced Leadership for Women Module 3
Connecting
We do not accomplish anything in this world alone. Relationships we build throughout our career are important for all stages of our development as leaders. This module will focus on building connections and networks in colleagues, mentors, sponsors and developing inclusive leadership skills.
A Path to Belonging
Reciprocity Forms Relationships
The Tapestry You Weave
On the Shoulders of Sponsors
Member of the Tribe
Balanced Leadership for Women Module 414
Engaging and Energizing
It all comes together when we practice engagement. Engaging is when we commit to taking a step forward, to seize the opportunities in front of us. In order to take risks, we must be able to speak up for our dreams professionally as well as personally. This module will discuss how to find your voice as a leader, use your strengths to create opportunities in leadership in your career, and to utilize skills from centered leadership to effectively reach your career goals.
Crossing the Line
Stand Up, Speak Up
Weathering the Heights
Energy in Your Toolkit
Experience the Flow
Ed4Career is committed to being both environmentally conscious and making it easier for you to study! We're making your education mobile! All of our textbooks are now provided as eTextbooks. You can access them on your laptop, tablet, or mobile device and can study anytime, anywhere.
The move away from physical books to eTextbooks means you get the latest, most up-to-date version available. This also makes your training more accessible, so you can study anywhere you have your phone or tablet. The best part is that all materials are included in your training cost so there are NO extra fees for books!
Internet Connection
Broadband or High-Speed - DSL, Cable, and Wireless Connections
*Dial-Up internet connections will result in a diminished online experience. Classroom pages may load slowly and viewing large audio and video files may not be possible.
Hardware Requirements
Processor - 2GHz Processor or Higher
Memory - 1 GB RAM Minimum Recommended
PC Software Requirements
Operating Systems - Windows 7 or higher
Microsoft Office 2013 or higher. Also, you could use a general Word Processing application to save and open Microsoft Office formats (.doc, .docx, .xls, .xlsx, .ppt, .pptx)
Internet Browsers - Google Chrome is highly recommended


Cookies MUST be enabled
Pop-ups MUST be allowed (Pop-up Blocker disabled)

The Kindle Reader App or VitalSource Bookshelf App are needed for many of our courses (No special equipment needed. This can be downloaded for FREE onto your computer.)
PowerPoint Viewer (if you do not have PowerPoint)
QuickTime, Windows Media Player &/or Real Player
MAC Software Requirements
Operating Systems - Mac OS x 10 or higher with Windows
Mac office programs or a Word Processing application to save and open Microsoft Office formats (.doc, .docx, .xls, .xlsx, .ppt, .pptx)
Internet Browsers- Google Chrome is highly recommended


Cookies MUST be enabled
Pop-ups MUST be allowed (Pop-up Blocker disabled)

The Kindle Reader App or VitalSource Bookshelf App are needed for many of our courses (No special equipment needed. This can be downloaded for FREE onto your computer.)
PowerPoint Viewer (if you do not have PowerPoint)
Adobe PDF Reader
Apple QuickTime Media Player